BEFORE YOU CONTACT US ABOUT YOUR RETURN PLEASE READ THE INFORMATION BELOW:
BEFORE CONTACTING US ABOUT A RETURN - PLEASE READ BELOW!
RETURNS: WHAT CAN AND CAN'T BE RETURNED AND OTHER IMPORTANT INFO!
(1) All products may be returned for a FULL REFUND UP TO ONE YEAR AFTER PURCHASE. For more information on our Return Policy, please CLICK HERE.
(2) In order to process a RETURN, the contact lenses MUST BE:
✓ Unopened
✓ Unmarked
✓ Undamaged
(a.k.a. in their original condition with sealed packaging.)
(3) Custom and Special Order contact lenses, as well as several other products cannot be returned. These include:
Custom and Special Order contact lenses cannot be returned. To see the full list of excluded lenses, CLICK HERE.
90 packs that have been opened cannot be returned.
Even if the boxes inside a 90 pack are unopened, they cannot be returned. You may notice that in some cases the manufacturer has printed 'NOT FOR RESALE' on the boxes inside. That applies to both customers and us as a reseller.
Eye drops and contact lens solution that have been opened or damaged cannot be returned. To ensure that the lens care products that we sell you are always sterile and unused, we do not accept returns for these items.
Contact lens cases cannot be returned. They are not usually put into a sealed box, and to ensure that our cases are always clean and sterile, they cannot be returned for any reason.
Partial returns of Air Optix Rainbow Pack (3 x 2pk) cannot be returned. This product counts as 1 item, so the return has to include all 3 packs and must be undamaged and unopened to be returned.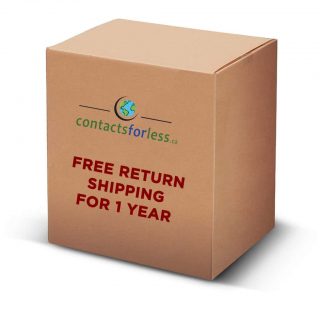 HOW TO RETURN YOUR CONTACTS
Fill out the form below.
We will email a special way-bill to the email you provided within 1-2 business days.
Then you can ship it back to us for free.
We'll let you know when we receive your package. Once we receive it and check that everything is in order, we'll give you a full cash refund!
THINK YOU HAVE A DEFECTIVE CONTACT LENS?
Defective contact lenses may also be returned. However are you sure your lens is defective? For more information on how to determine if a lens is defective, please check out our page on contact lens issues. To view that page, please CLICK HERE.
If you wish to write an email to our team regarding our return policy or for any other reason, please contact us at [email protected].